Instructors
Sensei Julius Manyoni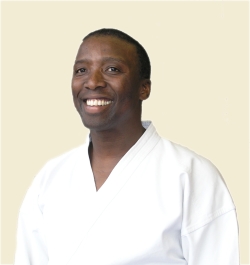 Julius Manyoni Black Belt 6th Dan
Chief Instructor

Profile
Qualifications:
Black Belt 6th Dan Karate
Coaching Award - level 3
DBS (CRB) checked
Competitions: 1996 UKASKO National Champion
1990- 1997 UKASKO England Squad/Coach
Students:
14- Black belts (11 male, 3 female)
                    
26- National champions
                    
10- England Int. (Seniors & Juniors)
                    
1 -  World Champion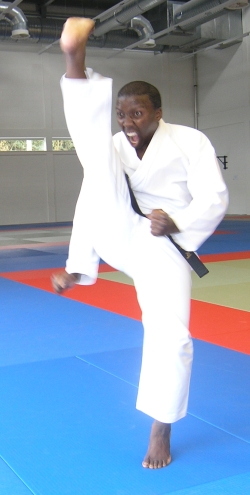 Julius Manyoni, a Black Belt 6th Dan in Karate-Do and has been teaching karate at Epsom & Ewell since 1986.
Julius studied Lau Gar Kung Fu under Neville Wray as his first serious training experience. Lau Gar was very popular at that time since it was the most successful style on the "fighting circuit" 1979.
In 1985 Julius joined trained in Wado Ryu while at Sussex University. As a Brown Belt in karate, Julius started his first Club, Epsom & Ewell and joined UKASKO in 1986. Julius was impressed with Sensei Roy Stanhope's professionalism in every aspect. Julius soon attended every course organised by UKSAKO and in 1986 he passed his 1st Dan grading under Sensei Stanhope. Julius comments:
"When Roy Stanhope awarded me with the black belt it was one of the greatest moments of my life"

Epsom & Ewell Karate Club became the most successful Club in the Borough and Julius received UKASKO top ten instructors award on several occasions. In 1996 Julius won his first UKASKO National Championship.
He became UKASKO Southern Area coach and his students dominated the fighting team for UKASKO. One of his students won the World Championships. Julius fought along side his students in the UKASKO England Squad.
Julius comments; " My reasons for doing martial arts is simple. I hate bullies."
Fighters Magazine 1990 quotes;   "Julius Manyoni epitomises the concept of the professional karate instructor"
---
Ian Andrews
Ian Andrews Black Belt 5th Dan
Senior Instructor

Profile
Qualifications:
Black Belt 5th Dan
Coaching Award level 2
DBS (CRB) checked
Ian Andrews, Black Belt 5th Dan is a Senior Instructor for Epsom & Ewell Karate Club. Ian started training as a student in 1988 and in 1993 he obtained 1st Dan after a grading session with Roy Stanhope, Chief Instructor of UKASKO.
Ian has attended all major events organised by UKASKO, including all major competitions such as the UKASKO nationals, coaching course and referee training course with the EKGB.
Ian's greatest achievement was fighting for England in the UKASKO England Squad in 1994 along side Julius Manyoni. Ian was UKASKO south of England kata champion in 1993 and 1995.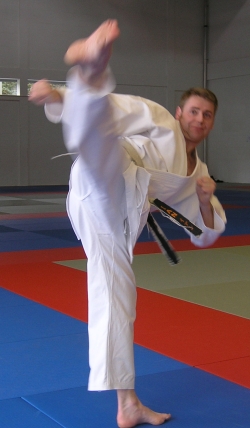 Ian comments "I have always had an interest in keeping fit and I ran the London marathon in 1988. A colleague at work introduced me to Epsom & Ewell Karate Club. On meeting Julius I was very impressed by his skill and knowledge of the martial arts and equally impressed by his enthusiasm for all his students. Julius has a way of getting the best out of everyone and it is this attribute that has made me the martial artist I am."
As well as studying freestyle, Ian has studied Kyohushin - Kai karate.
Ian says "The most important aspect of martial arts is RESPECT for everyone you meet regardless of what style they practice"
---
Howard Mordecai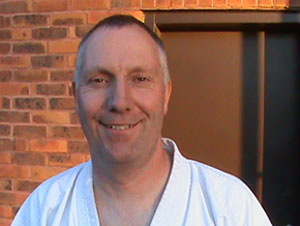 Howard Mordecai Black Belt 2nd Dan
Instructor

Profile
Qualifications:
Black Belt 2nd Dan
Coaching Award level 1
Howard, Black Belt 2nd Dan and has won numerous trophies both for kumite and kata.
Howard was selected for the UKASKO England Team in 2008 but due to an operation he was not able to attend the tournament.
Howard was re-selected for the UKASKO England Team in 2013.
He was instrumental in preparing the last group of students for their Black Belts.
---
Andrew Fitch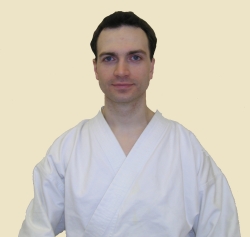 Andrew Fitch Black Belt 2nd Dan
Club Secretary

Profile
Andrew joined Epsom & Ewell in 1987 after meeting Julius Manyoni in his Martial Arts shop. Andrew started his Martial Arts career at his preparatory school in Tadworth where he reached the level of Green belt in Judo. Andrew competed in tournaments with the school team. Andrews tried various styles in karate ranging from Shotokan to Wado Ryu.
While training at karate club locally, Andrew's friendship with Julius led him to leave his Club and join Epsom & Ewell.  Andrew comments;" I grew to respect Julius and I knew he was the Instructor for me".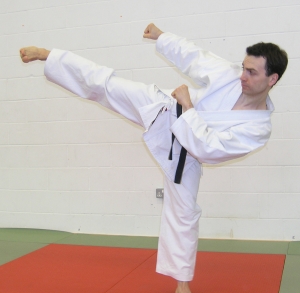 Andrew's keen enthusiasm in all aspects of Martial Arts was soon realised when he was successful at Epsom & Ewell Karate Club. He particularly enjoyed the sparring sessions which were a vital component missing in the previous Clubs he attended. Andrew also enjoyed attention to Kata at Epsom & Ewell for its strict discipline.
Andrew comments; " I found Julius to be very open, giving, wise and talented Instructor, I then invited Julius to teach me and other students at a public School in Leatherhead" Andrew organised the Club and managed to persuade the teaching staff to take an interest.
After leaving school, Andrew, now a Brown Belt joined a renowned Drama school in North London. Keen to continue his Martial Arts training, he started his own Club at the School with grading support from his mentor, Julius.
Andrew achievements are, Gaining a Black Belt from Roy Stanhope, Chief Instructor UKASKO. Runner up in his first UKASKO championship 1994, numerous trophies for kata, sparring. He fought in the England team with Julius several times and is the current Champion for Southern Areas championship.